After 1 week of exciting matches in Tao Dan pitch- dist.1 Ho Chi Minh city,  Ho Chi Minh City Journalists Association mini tournament – 2013 Thai Son Nam Cup had closed with the news champion Tuoi tre news who had a excellent comeback 3-4 against AVG.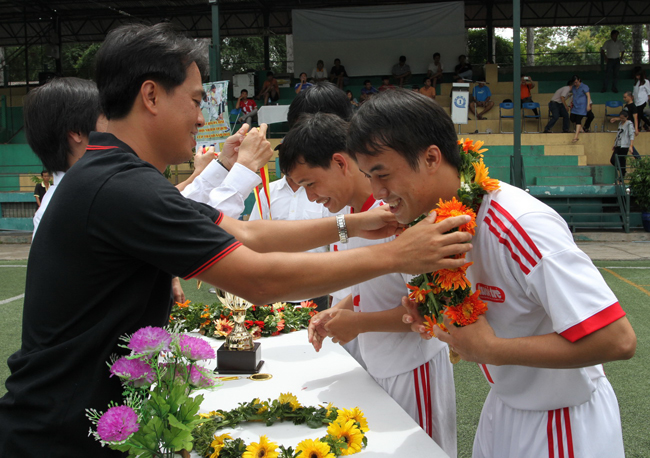 Awarding to Tuoi Tre news.
Two main characters of the finals had devoted to audiences an extremely thrilling final game. Tuoi Tre's subtle style and identity in 3 fronts helped them head 2-1 in the first half. However, with youth and high determination AVG had comeback 3-2 successfully in first 10 minutes of the second half. Tuoi Tre once again showed off their subtle style by 2 consecutive goals and win 4-3 against AVG to gain the highest title of tournament.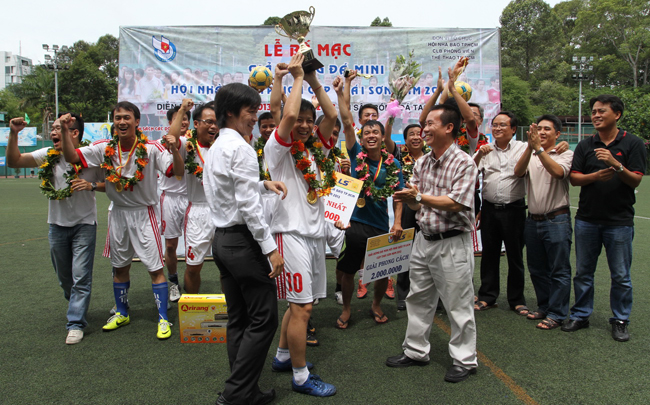 Awarding Cup to the new champion Tuoi Tre news.
In the game for the runners VTV had won 7-3 over CA HCM news per convincingly. Besides that, in serie B: Khan Quang Do news also had an impressive comeback against Sai Gon Giai Phong. Though They had been headed 2-1 in a few minutes, Khan Quang Do with their strong efforts to comeback and won the champion title of serie B after winning 5-3 over Sai Gon Giai Phong.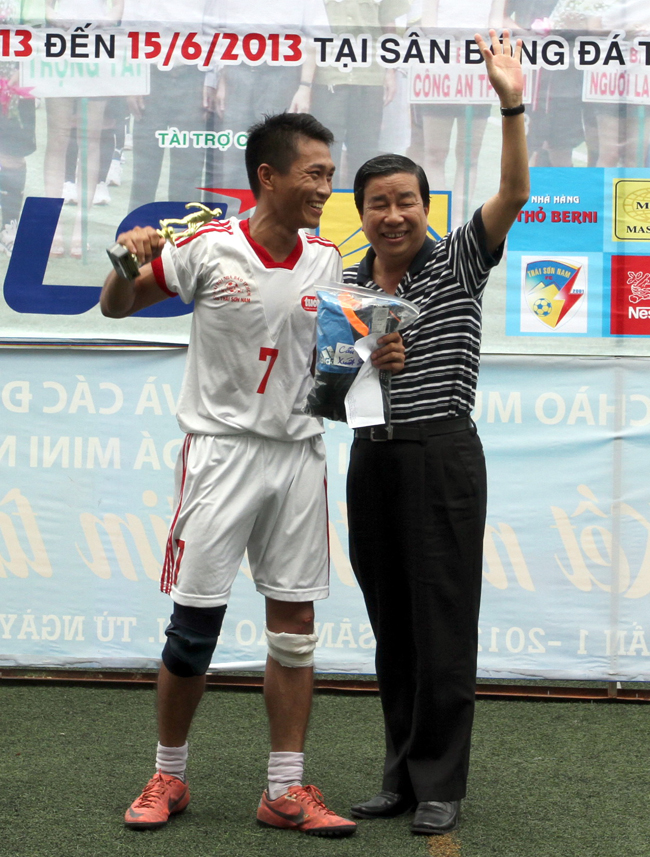 Nguyen Van Thang ( Tuoi Tre news) the plex lagoon king.
After one week of exciting competitions, Ho Chi Minh City Journalists Association mini tournament – 2013 Thai Son Nam Cup had ended with the champion belonging to Tuoi Tre News, goal medals and 10 million VND. An Vien group ( AVG) followed with silver medals and 5 million VND. the runners up are respectively VTV and CA HCMC News and the team of the best playing style : Tuoi Tre News. In serie B: the champion Khan Quang Do received cup, medals and 1 million VND. Sai Gon Giai Phong received medals and 500 thousand VND.
In individual prizes, Nguyen van Thang ( tuoi tre news) won the plex lagoon king that was presented medal and 1 million VND. The best goal keeper title belonged to Nguyen Trung Hoa ( AVG). Two players won the prize of devotation were the old soldiers Quoc Thang ( VTV) and Tan Hung ( CA HCMC news).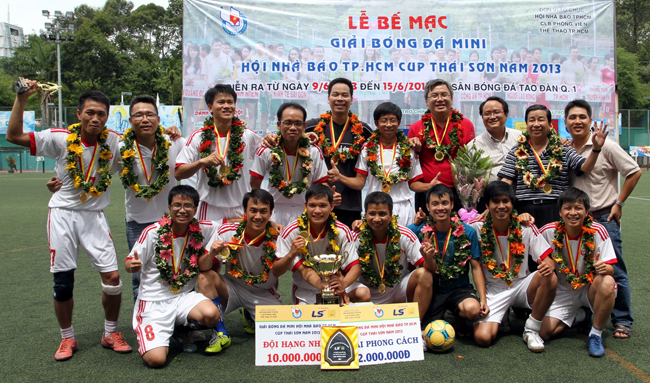 The champions Tuoi Tre News
Dình Vien